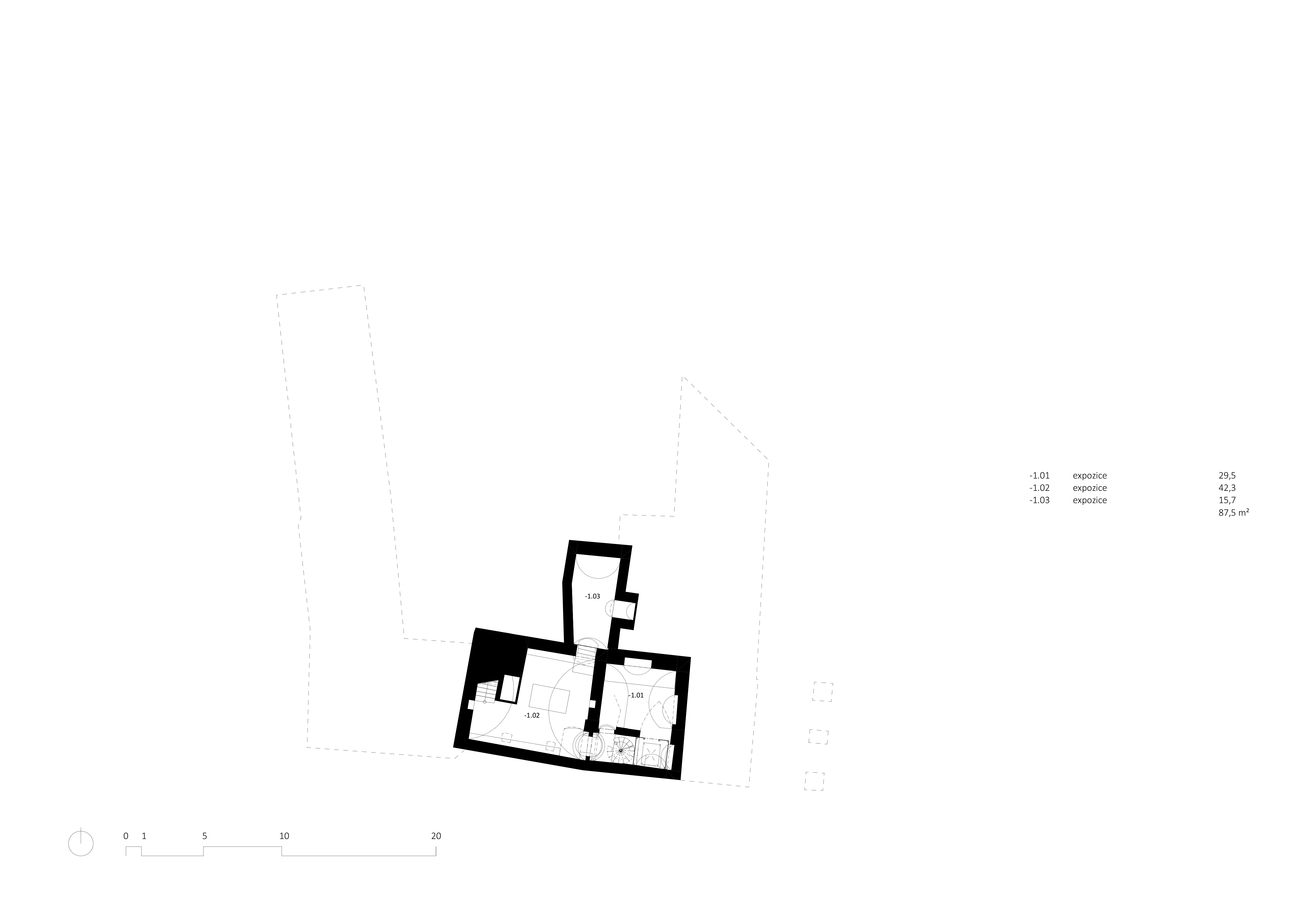 LIBRARY AND MUSEUM MODŘICE
status
competition, 1.place
year
2020
location
Modřice, The Czech Republicteam
Filip Hermann, Janosch Welzien, Ivona Náterova, Štěpánka Úlehlov
Anotation

New cultural and social center Modřice. The townhouse with its extensive history gets a new touch. The interior is cleaned of insensitive additions and adapted to the needs of museums, exhibition space, information center, and café. The appearance of the townhouse remains almost intact. The current layer is added to the extensive structural history. Opposite to the museum we propose a new volume of a library, which through the public court creates a dialogue with the museum. The museum is connected to the library and at the same time functionally separated by two covered passages, entrances to the courtyard. The library opens into the courtyard, communicating with the street through two large openings through which passers-by enter the courtyard. The two-story mass is slightly displaced and invites to explore the court and enter the building. We create a clear contrast between the historical and new parts of the object. The new part of the building completes the building and embraces the space of the yard. The extension refers to today's enclosure of the courtyard walls, without the ambition to draw attention from the historical part of the house, but also does not give up on the effort to add an element of contemporary architecture to the building.

Jury evaluation

The proposal - to the greatest extent - met the criteria, other requirements of the assignment as much as possible and also fulfilled the expectations of the contracting authority. The proposal is based on the historical context of a closed court, which complements the construction of the current character and links the individual historical layers into one whole. It follows the genius loci of the closed mass of the original buildings and preserves the original historical street line. Contemporary elements, such as the generous connecting window, emphasize the openness of the building and institutions to citizens. The yard is permeable from several sides and streets, a safe community meeting place is assumed. The original historical and new proposed are sensitively linked. Recommendations of the jury - it is expected that the competition proposal will be finalized in a study with the contracting authority, affected authorities and valid land-use planning documentation. Furthermore, the jury recommends: elaborating the yard solution, considering the location of depositories and research rooms on the first floor and exhibition space in the basement, considering the construction design, or trying to better adapt to the surrounding buildings, and work with the character of plaster.